Meledath Tharavadu in Kunnaru, Ramanthali near Payyannur was a famous family. The lady of the house Meledath Chakki Amma, got a baby from Mukkuttikadu. She brought him up as her own and named him Kelan. He grew up to be an excellent farmer. All the farm lands under them flourished with the expertise of Kelan. Wayanad in early days consisted of 4 provinces called Mukkuttikadu, Moovarkunnu, Nallathenga and Karimbanakkadu. This province was under the ownership of Meledath Tharavadu. Chakki Amma wanted Kelan to work his magic over these lands so that they would also be fertile. Hearing his mother's request Kelan set out on his way to Wayanad. Along with his bow and arrows he also took enough toddy with him to last the journey. He reached the jungle of Wayanad intoxicated.
He started clearing the areas. He cut out all the trees except a single gooseberry tree. On that tree unknown to Kelan lived two nagas Kali and Karali. He lit the forest on fire to clean it up but ended up stuck inside. To escape the fire, he climbed the tree. The snakes, afraid with all this heat and fire, got in his chest and bit him. All of them fell into the fire and died.
This time, Vayanat Kulavan, a warrior God passing by the area saw the burnt Kelan and brought him back to life. Vayanat Kualvan blessed Kelan, named him as Kandanar Kelan and gave him a seat next to him. This is the story behind the theyyam of Kandanar Kelan Theyyam.
Kandanar Kelan Theyyam has a drawing of 2 snakes entwined on his chest. He ran through the fires while wearing silk clothes and silver anklets to show his anguish for the fire burning him up. He is perhaps the only theyyam to do so as other theyyams which include fire wear clothes made of tender coconut leaves. This theyyam is performed yearly at the Nambiar Makkuni Tharavad at Azhikode, Kannur district. Usually this theyyam is performed by people of Vannan community.
Kandanar Kelan Theyyam Photos: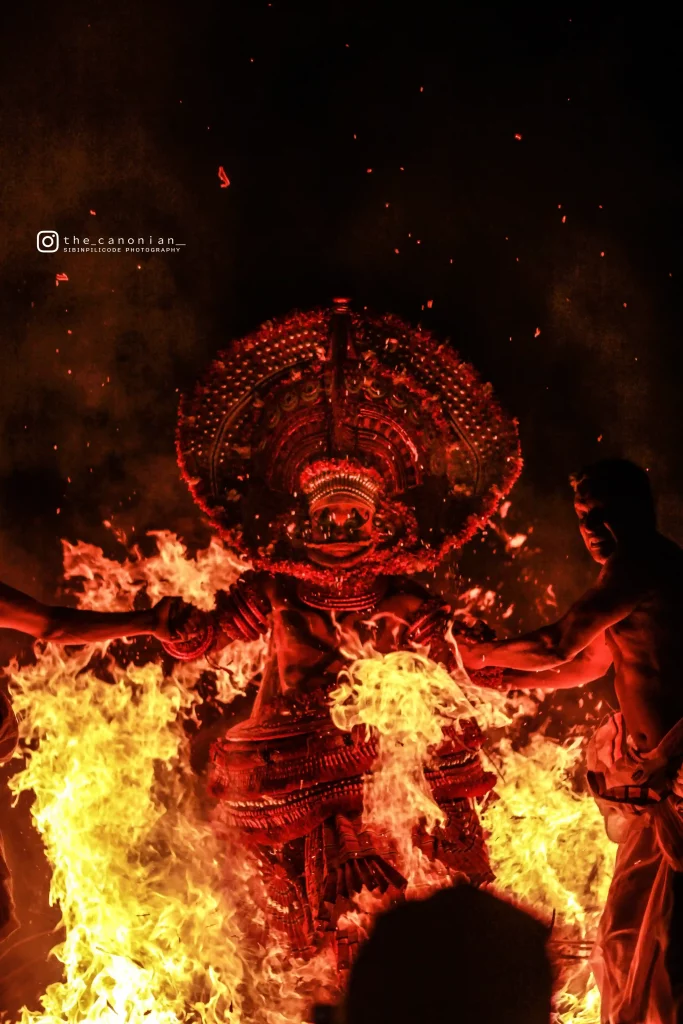 We hope that our website, "Hidden Mantra," has provided valuable insights into the world of Theyyam and that it will inspire you to explore this rich and fascinating tradition further. Read More Related Blogs