Vishnumoorthi Theyyam is the most popular Vaishnava Theyyam. This theyyam is known for its loud and peculiar drum beats which can be heard up to 2 kms surrounding the place of origin. The most fascinating ritual in the Vishnumoorthi Theyyam is the Agnipravesham. The Vishnumoorthi Ottakolam enters the pyre many times during the performance. Vishnumoorthy Theyyam enacts the Narasimha Avatar of Lord Vishnu. Lord Vishnu took the form of Narasimha to kill Hiranyakashipu, the demon king and father of Prahlada.
Who is Vishnumoorthi Daiva in Theyyam?
Vishnumoorthi is a famous theyyam performed in Kerala. In theyyam, Vishnumoorthi represents Narasimha, 4th avatar of Lord Vishnu, who killed Hiranyakashipu, the demon King.
Where does Vishnumoorthi Theyyam take place?
The Theyyam of Vishnumoorthi is a common tradition at many temples, Kavus (sacred groves), and homes where Theyyam is a traditional practice. The god Vishnumoorthi is worshipped at the Vaikunteshwara temple in Kottapuram, Neeleswaram. The Chimeni Sri Vishnumoorthi Temple is a well-known shrine in North Kerala known as Guruvayoor.
What is the Story of Vishnumoorthi Theyyam?
Kerala's northern parts are home to the most famous Vaishnava Theyyam, Vishnumoorthi. In theyyam, Vishnumoorthi represents Narasimha, 4th avatar of Lord Vishnu, who killed Hiranyakashipu, the demon King.
The representation of Vishnumoorthi is the most well-known aspect of the Vaishnava Theyyam. This theyyam has a connection to Jeppu Kudupady in Mangalore. It describes Palanthai Kannan's life as a devoted follower of Lord Vishnu. When he was young, Palanthai Kannan once ate mangoes from a tree that belonged to Kuruvat Kurup. Kuruvat Kurup and his goons beat him and drove him away from Nileshwaram. Palanthai Kannan sought refuge in a Vishnu temple in Jeppu Kudupady, Mangalore following that event. After receiving Lord Vishnu's blessings, he returned to his homeland as instructed to him by Lord Vishnu.
While traveling back to Nileshwar, Palanthai Kannan stayed at Moolappally at the home of a blacksmith. Then he took a short break at Kanakkappalli Anikkil Tharavadu, which was once well-known as a center for martial arts and education (now close to the Nileshwar bus stand, on the Koroth – N.H. Road). After leaving his Olakkuda (umbrella) and Churika (shield) at Kundon Kadavu, he headed to Kadalikulam (a pond close to the Nileshwar Market junction) to take a bath.
The word of Palanthai Kannan's arrival spread quickly. When Kuruvat Kurup and his goons heard the news, they went to the Kadalikulam and killed Palanthai Kannan. Lord Vishnu, who arrived in Nileshwaram with Palanthai Kannan became furious and destroyed everything Kuruvat Kurup owned. Fearing for his life, Kuruvat Kurup contacted an astrologer. The astrologer recognised the existence of God and recommended to Kurup the creation of a Kettikkolam for Lord Vishnu as well as the building of a temple for the Deity. Kuruvat Kurup and his family members made a Kettikkolam and carried stones by themselves to construct a shrine for the god Vishnu.
Lord Vishnu began to reside in Vikundeshwara temple in Kottappuram, Nileshwar, where he became known as Vishnumoorthi. All Theeya, Nair, and Yadava Tharavadu perform this theyyakolam. Palazi Pereppan from the Malaya Clan was the first to perform Vishnumoorthi Theyyam. Chamundi Theyyam is another name for Vishnumoorthi Theyyam among the natives.
Where does Vishnumoorthi Theyyam take place?
Vishnumoorthi Theyyam is performed at almost all temples, Kavu and families where theyyam is performed. Vishnumoorthi resides in the Vaikunteshwara temple at Kottapuram, Neeleswaram.
Legend of Vishnumoorthi Theyyam:
Performed by people of the Malaya clan, this theyyam is the deified form of Palanthai Kannan. Palanthayi Kannan, born in Neeleswaram was a staunch follower of Lord Vishnu. He was of a lower caste. One day little Palanthai Kannan was herding cattle. He ate mangoes from a tree owned by Kuruvat Nair when he got hungry. This was at the time when caste discrimination in Kerala prevailed. Kuruvat Nair took offense to this and his servants beat the boy till he ran away from the village of Neeleswaram. Palanthai Kannan took refuge in a Vishnu temple in Mangalore where he lived for the next 12 years. After 12 years he returned to Neeleswaram as per the instructions of Lord Vishnu. He took a bath in a pond which was not for people of lower caste. Kuruvat Nair and his goons killed Palanthai Kannan. Kuruvat Nair faced many problems after this. An astrologer declared that Lord Vishnu is upset by the death of his devotee and hence a kolam is to be performed and the Vishnumoorthi who accompanied Palanthai Kannan from Mangalore was to be given a temple and worshiped.
Vishnumoorthi Ottakolam:
Vishnumoorthi theyyam is performed as Ottakolam (only one kolam). Another specialty of this theyyam is the Agnipravesham. Vishnumoorthi Theyyam enters the fire pyre and comes back. The performance includes numerous repetitions of Agnipravesham.
We hope that our website, "Hidden Mantra," has provided valuable insights into the world of Theyyam and that it will inspire you to explore this rich and fascinating tradition further. Read More Related Blogs
Vishnumoorthi Theyyam Face Photos :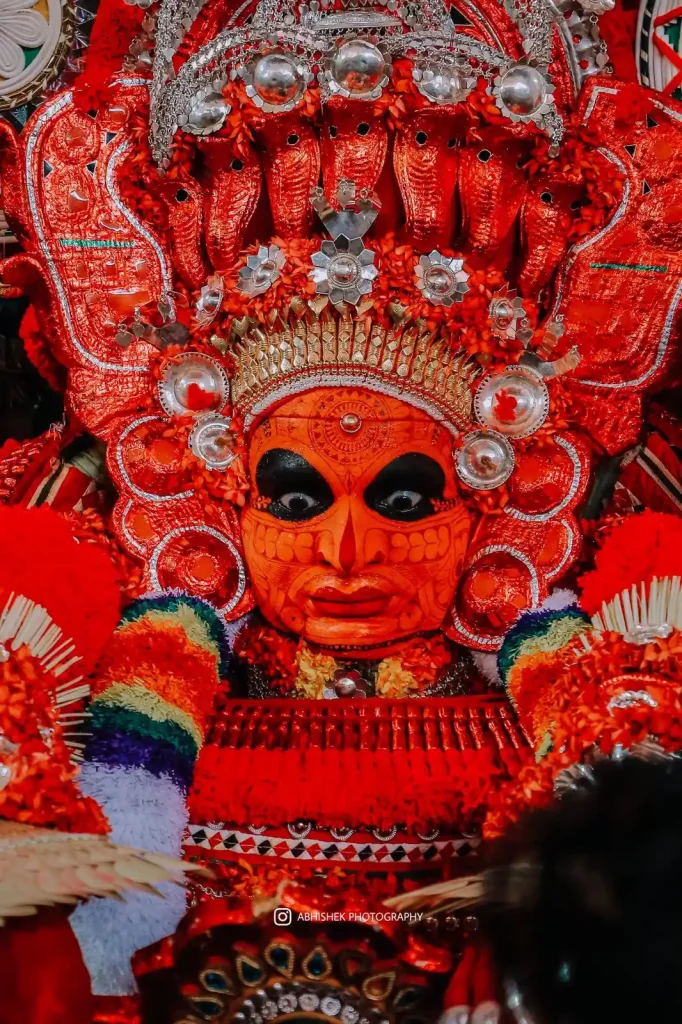 Vishnumoorthi Theyyam Photos: